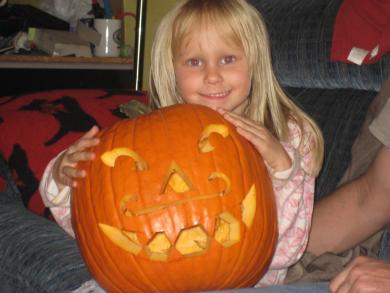 Carving pumpkins isn't really my favorite thing… you see, my freshman year of college I was so excited to be "grown" and on my own and FINALLY be able to carve the pumpkin! I managed to carve my hand, and ended up in the emergency room in New York City. Not a pleasant experience. A couple severed tendons, and a surgery later… my favorite part of carving pumpkins (done by my husband lol) is the seeds!
I love to roast pumpkin seeds! I have always stuck with a very basic roasted pumpkin seed recipe, but this year I stepped out and tried something a little different… and it is awesome!
How to Roast Pumpkin Seeds
Here's what you need:
3 tbsp butter
1 tsp salt
1/4 tsp garlic salt
4 tbsp Worcestershire sauce
2 cups pumpkin seeds
What you do: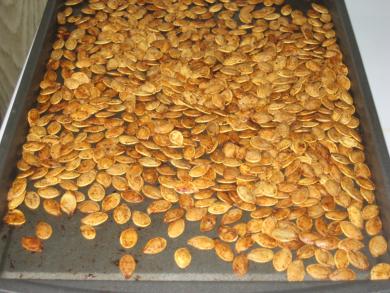 Once you've got the seeds out of your pumpkin, rinse and wash them. Separating the orange pumpkin goo from the seeds.
Lay seeds out on a large cookie sheet in a single layer and let them dry out over night. Shuffle them around once in a while so they all dry out.
Melt the butter in a bowl (large enough to accommodate all the ingredients)
Add all the ingredients (except the seeds) and stir to combine.
Add the seeds, and stir to coat.
Lay the seeds out on a cookie sheet in a single layer.
Roast at 275 for 1 hour. Stirring every 15 minutes.
It may take an additional 15 minutes to get a lovely dark color… and it depends how you like them. 🙂
My daughter has never liked the roasted pumpkin seeds, but every year she tries them (and usually spits it out lol). This year she loved them and asked me to pack them in her lunch. #win.
That's how to roast pumpkin seeds.
Good luck and enjoy!