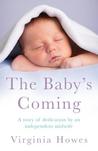 The Baby's Coming: A Story of Dedication by an Independent Midwife

by Virginia Howes
Published by Headline Book Publishing on June 1st 2014
Genres: Memoir
Pages: 320
Format: Paperback
Buy on Amazon (aff link)
Add to a Goodreads Shelf


Virginia Howes was a mother of four doing the ironing when she had a revelation. Still broody, but not really wanting to add to her family, she realized that becoming a midwife was her true vocation. It was a long journey to get the education and qualifications she needed, especially with a young family, but she was determined and never doubted her decision. Following her training, she spent three years working within the NHS, but her naturally independent spirit fought against the constraints of the system and twelve years ago she decided to set up on her own. Virginia works with mothers who want to give birth at home naturally, something which Virginia believes in passionately. 350 births later, Virginia still loves what she does. The Baby's Coming is Virginia's memoir and tells the stories of her training as a midwife as well as some of the most memorable of those 350 births: the most dramatic, the most touching. Virginia particularly remembers the births of her own grandchildren, whose arrivals in the world were some of the most special moments for her as both a midwife and grandmother.
I found this book while researching books for week 2 of the Year of Words book challenge. The word of the week was Dedication.  As a woman who thought she had all her ducks in a row, was well researched and thought she knew just how birth would go, only to be in for a rude awakening, I'm a sucker for a good birth story.
This book is engaging, entertaining, and incredibly enlightening. I wondered multiple times while reading how my birth would have been different if I'd had someone like Virginia as my midwife. We'll never know, but I would highly recommend this book to pregnant women who are looking for a natural childbirth. I felt empowered more and more as I read, and wished I'd had information about birthing itself she shares so freely through the stories she tells.
When it comes to dedication I was amazed by just how far she would go to make sure the women in her care had the birth they wanted, and how she fought so hard when things didn't go exactly right to make sure the birth was as close as possible to what the mother had wanted. She shared a story of one mother first birth that was almost my exact story, her second birth, with Virginia as her midwife, turned out just as I had mine planned. It almost made me want to have another baby so I could experience the birth I'd hoped to have. ALMOST. 😉
A moving and powerful book about empowering women through birth. Highly recommended.