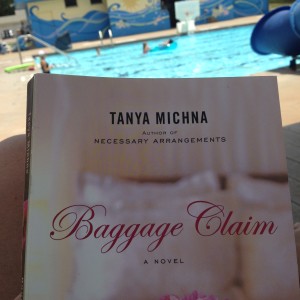 Baggage Claim

by Tanya Michna
on May 5th 2009
Genres: Fiction
Pages: 340
Format: Paperback
Buy on Amazon (aff link)
Add to a Goodreads Shelf


Two women with nothing in common except look-alike luggage embark on a journey that will transform their lives...

When Beth Overton, a stay-at-home mom, learns that her husband has fallen short on his part of their marriage bargain, she's forced to rethink hers. But first she's got to retrieve the luggage she's accidentally switched with someone else...

Carly Frazer, a divorced history professor, keeps telling herself she's got her life completely under control...until it falls completely apart. With a major career move in doubt and her recently widowed mother moving in, Carly's got troubles galore-and another woman's suitcase.

When Beth and Carly meet in a hotel bar to switch bags, they are two very different women who never guess that a twist of fate, and their subsequent unlikely friendship, are about to take their lives in surprising new directions...
I read Baggage Claim last summer at the pool. It was a perfect Summer read. It was easy to get into, the characters were believable and sympathetic. The story moved quickly along, carrying me with it for the ride.
I really enjoy books where women take a look at the life they've created for themselves and begin to wonder if it could be better/different/exactly what they wanted in the first place, and then make moves to make it so. This is one such book.
If you're looking for a light, easy read I definitely recommend this one. (pool optional). 🙂