It all started with a recipe for egg roll stir fry. It is delicious, and I make it regularly to have for lunch for the week, but the problem is… my family doesn't eat cabbage. I'm not a short order cook, and I also happen to be the only one in this house eating low carb. I choose to eat low carb because I feel better when I do. I am also steadily losing the weight I've gained over the last few years! I hear low carbers complaining about cooking multiple meals to suit everyone's needs. My trick is, find something low carb that's so tasty everyone will eat it, and add a carb on the side for the carb eaters if it's necessary. That's exactly what I did with this recipe. I eat mine in a bowl, no rice, I cook up some rice for them to eat with theirs. The flavors are so good they don't even realize this is low carb chinese food! 🙂
Low Carb Stir Fry (Picky Family Approved)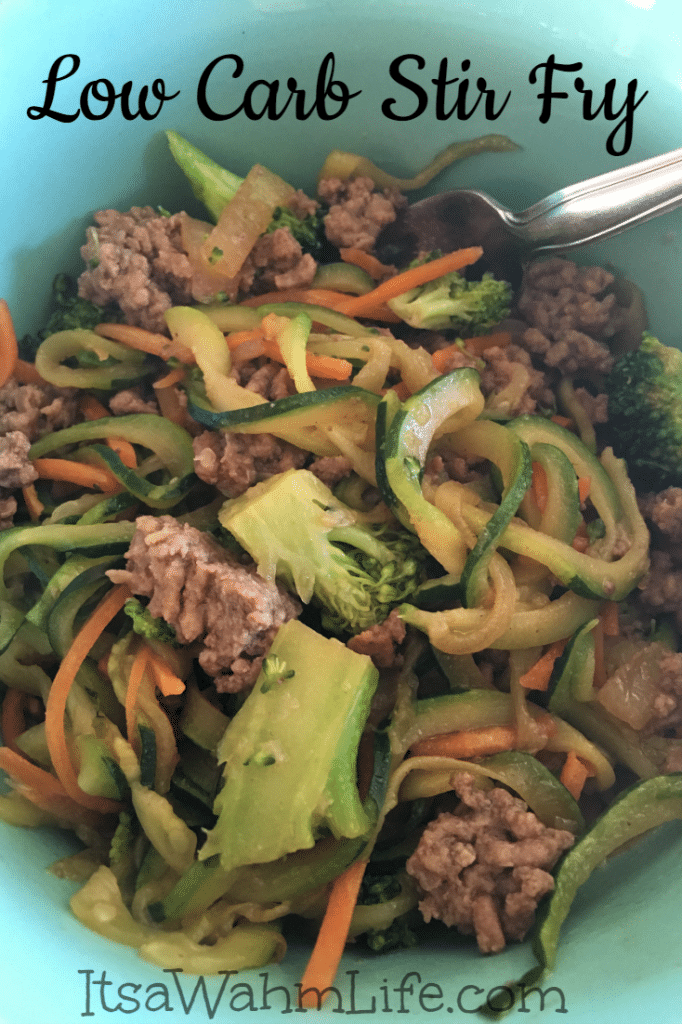 What you need:
2 zucchini (spiralized or chopped)
1-2 cups broccoli chopped into small pieces
1 lb hamburger
carrots (I use a handful of matchstick carrots)
1/4 c soy sauce
2-3 cloves of garlic
2 tbsp sesame oil
1 tbsp fresh ginger
salt/pepper
1/2 an onion (diced)
What you do:
I made zucchini noodles with my new Veggetti Pro. 🙂 (always finding ways to use my new toy) but you can dice them as well.
You could spiralize the carrots too, but before I got the Veggetti Pro I bought a small bag of matchstick carrots. I know carrots aren't low carb… but they add such nice color to a dish, you can pick them out if you're being really strict.
Brown the meat in a pan.
Once browned, leave the fat in the pan, and take out the meat (put it on a plate).
Throw in your onions, broccoli, and carrots. Cook for a few minutes, until they are starting to get soft.
Add in your zucchini, ginger, garlic, soy sauce, sesame oil, salt and pepper and let cook.
TIP: I use a micro planer to grate my ginger and garlic right over the pan
so I don't have to spend time finely dicing it.
Add back the meat, and let simmer for a few minutes to combine flavors.
If you've got carb eaters in the house, go ahead and add rice/noodles to the plate.
Dish out stir fry and serve!
This dish has become a go to quick week day dinner at our house. Everyone loves it, and the kiddo will even take what's left in her lunch the next day. 🙂