Let's just start by saying I'm not a professional "declutterer", in fact, I pretty well suck at it. My house has absolutely no storage space, and ends up being VERY cluttered. I see things stacking up and then I get totally overwhelmed and don't know where to start, so I just close my eyes a little and walk on by.
A couple weeks ago I was re-reading Get Rich Lucky Bitch. I got to the heading…
Declutter Everything.
Once again… I got the audible click. (You know, that sound when a piece finally clicks into place and you just GET IT?! I love audible click moments).
I looked through my Be. Do. Have. list I'd made the last time I read the book, and realized at least half of my list was about my living environment… how I wished it was cleaner, and less cluttered, and finished (where we'd started construction, and not quite gotten it finished… yes, that was 10 years ago… sigh).
I decided in that moment that I was going to make this summer's mantra… Declutter Everything. My house. My brain. My beliefs. Everything.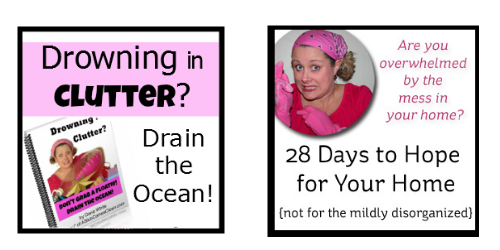 Being the crazy blogger I am I jumped in with both feet, bought  a new domain name and thought I'd start a new blog to document this process (and stay motivated). Thank goodness a dear friend talked me out of that… and into #bloglesslivemore. 🙂
So… Wednesdays now, here, on this blog, 😉 will be Declutter Everything updates and anything else that comes up related to the process of decluttering my life.
Like I said… there's a lot to be done, so I'm going one little section at a time. (so I don't get overwhelmed and quit).
I started with a section of the dining room. We have two large bookcases with a rolling cart in between them. This area, while it does hold books, also had been holding every small little thing that didn't have a place. Don't know where to put it… stick it on the edge of the bookcase.
You probably know how much I absolutely ADORE books, so these book cases, which were custom made for my apartment in NYC are my pride and joy… and had become an eye sore. 🙁
So I decided to start here… which is good and bad.
I was excited to be able to see my books again and have neat and tidy book cases… but it also meant I'd have to actually look at the books, and in my heart see if they were still supporting me or if I was just keeping them because it feels like a sin to give away books.
I did it! I got both book shelves cleaned off. I gave away a bunch of things. In fact, I decluttered so much one entire book case now stands empty… eeek.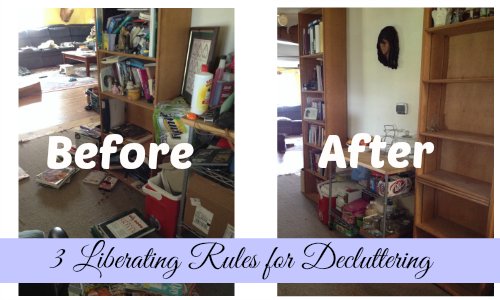 3 Liberating Rules for Decluttering
1. If you don't absolutely LOVE it… give it to someone who will. 
It about killed me… but I packed up my entire collection of Mother Earth News Magazines and took them over to a neighbor who was ecstatic to get them. I hadn't opened them in years. I hadn't used them. I think I just felt really "good" about having them… like it made me a certain kind of person to have 5 years worth of Mother Earth News on my book case.
Which brings me to number 2.
2. Your worth as a cook does not depend on the number (or type) of cook books on your shelf. 
I also gave away a ton of cookbooks. They weren't cookbooks I used. In fact, I'd never used one recipe out of some of them. However, once again, having fancy cookbooks on my shelves… from all around the world made me feel like I was great cook. Thing is… I'm a pretty damn good cook… even without Martha Stewart's cookbooks on my shelf. I really looked at the kind of cooking I do, want to do, and love to do… and let go of the ones that didn't fit. It's almost like letting go of a dream… but really… it's not that I couldn't be Martha Stewart… I could, but I really don't want to. 🙂
The fancy NY housewife is really NOT my thing… but growing up in NY it was kind of a spell cast over me, and in some ways I guess I felt obligated to live the "fantasy".
Guess what… I live on a dirt road in Kansas… we're not having Foie Gras and Souffles any time soon. (I did keep all the venison cook books though. 😉 )
3. Just because someone gave it to you doesn't mean you have to keep it. 
This one is probably the TOUGHEST for me. At some point in my life the people around me decided I was going to collect angels, and then when I moved to the country they added chickens. Now, don't get me wrong… I love beautiful angels, and adore cute chickens. However… I live in a 150 year old farmhouse with NO storage. Seriously. Nothing. There is no place to put these beautiful things.
The more I get the more got crammed on the bookshelf, where they sat there collecting dust. Did I mention we live on a dirt road? It gets seriously dusty in here… and… I'm sad to say… I don't dust. So these beautiful things were covered in dust, and a daily reminder of my failure as a housewife.
What should have made me feel good when I looked at them could easily turn into a spiral of depression… stuff everywhere. Covered in dust.
I realized this a couple years ago, but was still unable to bring myself to give these beautiful things, that I knew people had spent a lot of money on, away.
But now I did.
I chose a few of my very favorite ones… found homes for them and kept them. The rest, packed up in a box to give to someone who will love them in a way I just can't.
BIG TIP: If you have people who love you and want to help build your collection when it comes to gift giving time… and you're about collectioned out TELL THEM. You don't have to say, hey don't buy me anymore angels and chickens. You can say though, hey I'd love a gift I can experience with my family that doesn't take up space in my house. Gift card for dinner? Membership to the pool, zoo, botanical gardens?
If you don't say something people don't know, and then it gets easier and easier for the negative feelings to fester. That's no good. Just say something. 🙂 People are just trying to get you something you're going to like!
Big Tip 2:  See if your library needs anything you're giving away! We decluttered Hanna's bookcases in the middle of the school year. I was able to give all three teachers she's had so far a big stack of books for their classrooms. This time we donated a bunch of books to our town library.  A book you don't need anymore can now be used by the whole town! What a gift.
So… there you have it. The three liberating rules to decluttering my book shelf. I'm eager to start the next project… and create some rules or something to help me (and my family) keep this newly decluttered space clean!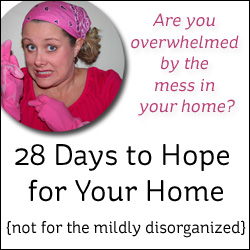 See you next week… and please, let me know if you decide to start decluttering as well! I know I could use some support… and I'd love to give you some too! 🙂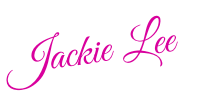 [hcshort id="7″]