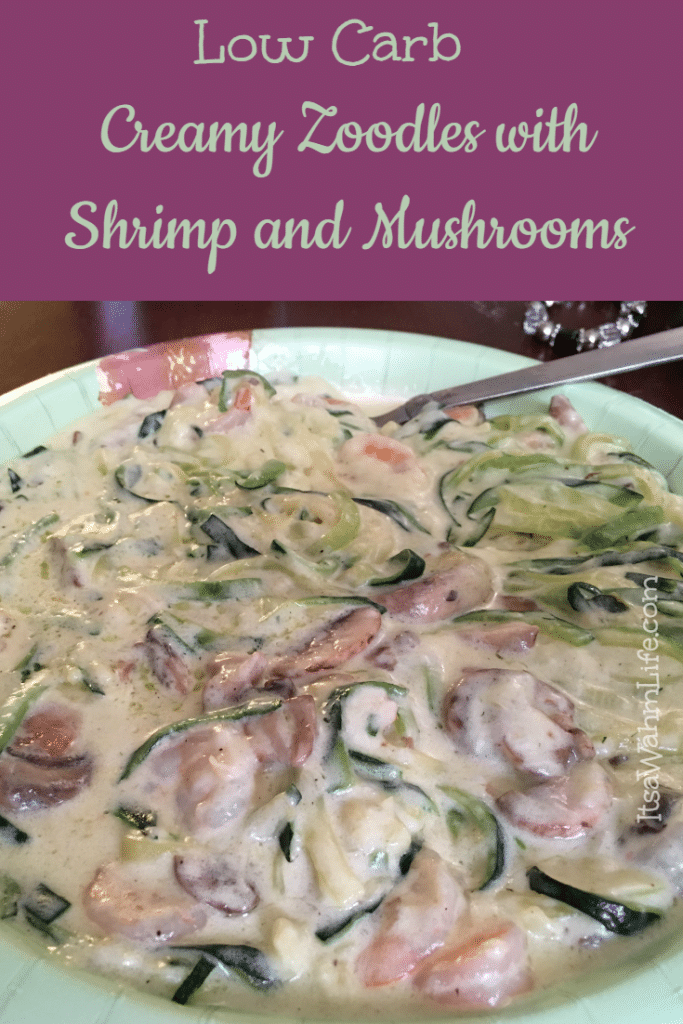 I really miss pasta… however, zoodles are coming in a pretty close second, especially with a delicious, creamy sauce. I also love shrimp. One of my favorite dishes used to be spaghetti and shrimp, so throwing together shrimp and zoodles makes me pretty dang happy. This is a quick lunch that's delicious and satisfying. I sometimes leave the mozzarella out when I'm doing lunch, but it makes a great addition to create a really hardy meal. This recipe is for 1 serving, so if you need more, just double/quadruple the recipe. 🙂 The nutrition facts shown, are from My Fitness Pal. The paper plate… was a compromise to prevent, "doing the dishes meltdown" from the kiddo. Had I realized how delicious it was going to be, I most definitely would have used real plates. 🙂
Low Carb Creamy Zoodles with Shrimp and Mushrooms
What you need: 
4.50 ounce, Zucchini (1 med zucchini)
4 oz, shrimp
1 tbsp, Fresh lemon juice
1 tbsp(s), Kraft 100% parmesan cheese
2 tbsp butter
3 ounce, White Button Mushroom
1.3 C Shredded Mozzarella Cheese
1 Tbsp heavy whipping cream
salt, pepper, red pepper flakes (optional)
What you do: 
Zoodle up your zucchini. My daughter got me a Vegetti for Christmas last year… it's still what I use.
Melt 1 tbsp butter in a pan.
Add zoodles, mushrooms, a little salt, pepper, and pepper flakes.
Cook for a couple minutes.
Add shrimp and lemon juice.
Let it cook for a minute or so… don't overcook your shrimp, they will curl up and become pink.
Add remaining butter, heavy cream, cheese. Stir until melted.
Serve.
This is such a quick and easy dish, and super delicious.
Enjoy!