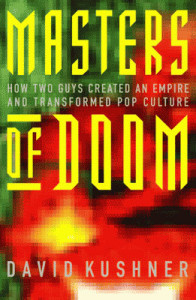 Masters of Doom: How Two Guys Created an Empire and Transformed Pop Culture

by David Kushner
Published by Random House Trade Paperbacks on May 11th 2004
Genres: Biography
Pages: 339
Format: Ebook
Buy on Amazon (aff link)
Add to a Goodreads Shelf


Masters of Doom is the amazing true story of the Lennon and McCartney of video games: John Carmack and John Romero. Together, they ruled big business. They transformed popular culture. And they provoked a national controversy. More than anything, they lived a unique and rollicking American Dream, escaping the broken homes of their youth to produce the most notoriously successful game franchises in history—Doom and Quake— until the games they made tore them apart. This is a story of friendship and betrayal, commerce and artistry—a powerful and compassionate account of what it's like to be young, driven, and wildly creative.
Masters of Doom is not a book I would normally read. I am not into video games, in fact, I don't even really like them, and don't understand them, however, the Year of Words Book Challenge already has me stepping out of my reading comfort zone.
I chose this book based on the sub-title and the reviews. Creating an Empire, and transforming pop culture… that really spoke to me as I was choosing a book for the word "Create".
I am really glad I did. This book was easy to read, engaging, and I'd go so far as to say the story was captivating. Two men, boys really, diving headfirst into the world of business, simply because they wanted to play games no one was making, so they decided to make them themselves.
The book reads much like an '80's VH1 Behind the Music documentary, which for me made it all the more inviting. I felt like I was peeking behind the scenes of a world I knew little about, watching them soar, and fail, pull themselves back up only to fly too high yet again, and have their wings burned.
I found the personal dynamic between the players in this story to ultimately be the most interesting part. The fact their personalities caused 95% of the issues in their business, and yet they seemed completely unable to see it, blinded by sheer drive to make better games.
All in all this was a really interesting book, and gave me a couple AHA moments about creation, and business. I definitely recommend it, whether you're a gamer or no.