Welcome to Happiness Week on the Year of Words Book Challenge. This week is so fun because it's a topic I love reading and learning about. It's also a week where I can pull a bunch of books I have already read off my shelf, and review them. Be prepared… this week there will be a lot of new reviews coming out. 🙂
The first of which is Happiness for Beginners. I had this on my Goodreads list for a bit, and one day saw it sitting on the new books shelf in my library. I picked it up, and read it, even though it was a large print edition. 😉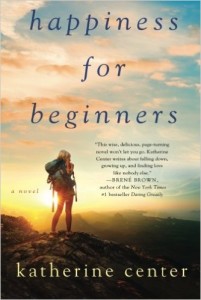 Happiness for Beginners

by Katherine Center
Published by St. Martin's Griffin on March 24th 2015
Genres: Fiction
Pages: 320
Buy on Amazon (aff link)
Add to a Goodreads Shelf


A year after getting divorced, Helen Carpenter, thirty-two, lets her annoying, ten years younger brother talk her into signing up for a wilderness survival course. It's supposed to be a chance for her to pull herself together again, but when she discovers that her brother's even-more-annoying best friend is also coming on the trip, she can't imagine how it will be anything other than a disaster. Thus begins the strangest adventure of Helen's well-behaved life: three weeks in the remotest wilderness of a mountain range in Wyoming where she will survive mosquito infestations, a surprise summer blizzard, and a group of sorority girls.
Yet, despite everything, the vast wilderness has a way of making Helen's own little life seem bigger, too. And, somehow the people who annoy her the most start teaching her the very things she needs to learn. Like how to stand up for herself. And how being scared can make you brave. And how sometimes you just have to get really, really lost before you can even have a hope of being found.
I really enjoyed this book. I found the main character Helen so relatable. She's head strong, independent, and never gives up. (sounds a little like me), even when she accidentally got herself in a tough situation she refused to give up.
I loved the relationship between her and her brother's best friend Jake. She tries so hard to remain distant and unaffected by the chemistry between them. Through the trials and tribulations they encounter on their wilderness journey you can see their relationship deepen and solidify, even if she is unwilling to admit it.
Her brother Duncan is a sympathetic character, a complete screw up, or so it seems on the surface. As the story flows we begin to see another side to Duncan which makes him lovable not only to the reader, but to his sister as well.
All in all the plot, and characters of this book were great. The story was easy to fall into, it had some unexpected twists and turns, and a few places that left me cheering out loud for the characters. It was a quick, easy read (not necessarily because it was large print lol). I definitely recommend this one, for a fun look at the word Happiness.
This book was recommended for the word of the week: Happiness, in the Year of Words Book Challenge. You're welcome to join the challenge, any time, with any word. To see the list of words, and jump right in, join our Year of Words Book Challenge Group!