It's the first day of school. Hanna's in 4th grade. I decided it would be a good day to start my "morning ritual". It's part of a course I'm taking. It starts with some sort of movement (I went for a mile long walk following this walking plan), then there's reading, and meditating and writing (I'm using 750words.com).
I was 142 words into my 750 words when the phone rang.
It was Ryan. He wanted to know if I could bring him some food. He was starving. He's already been out on the road driving for 5 hours.
I was annoyed. Frustrated. Feeling a little put out. Feeling a little taken for granted.
This is my big day. I've got a lot to do AND…
I was FINALLY getting it together, and actually DOING the morning ritual!
With the frustration showing in my voice, along with a big sigh, I told him I'd make him something and bring it over.
He wasn't there when I got to the meeting place, so I started looking through the first day of school pictures I'd taken earlier this morning. Pictures that were waiting for me to finish my morning ritual so I could play with them, and post them. 🙂
I got to the last picture. I snapped it as I was walking out of the school building. It's a sign, posted right in the front hallway for everyone to see as they come and go.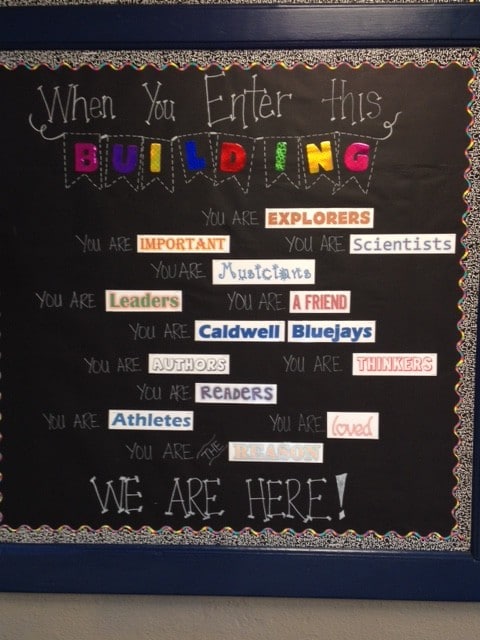 And my heart got so full, the love started coming out my eyes.
Of course that's when he pulled in. He took his food and asked me if I was ok. He said I sounded annoyed. I tried to explain, but didn't really have the words. Then he jokingly asked if I was annoyed because he'd interrupted my crying. I laughed and said no, and showed him the picture. My annoyance had washed away and was replaced by love. I really am happy to have a life where I can bring my sweet, hard working, husband food when he's hungry.
On my way home I got to thinking.
What an amazing life we have. What an amazing life we've created.
I started thinking back, to how we got here. It all comes down to one decision.
Buying the house we live in now. 
When we bought our house we lived in Wichita. We knew we wanted to get out of town, have some space, not be on top of our neighbors. We said we didn't want to move more than 30 minutes out though, since we both had jobs in the city at the time.
This house looked like a ramshackle little hut on the internet. We threw the page it was printed on in the trash.  We'd pushed it out of minds.
But then we were out of houses to look at. Our realtor didn't have anything else to show us. I mentioned we'd seen this house on the internet. She looked it up and we decided to come take a look. We got lost trying to find it. It's an hour from Wichita. And I fell in love with it.
Ryan could see the "potential" which was good enough. 🙂
We moved out here and commuted to Wichita for quite a while. Then we started making more decisions that moved us closer to being who we wanted to be. Things popped up, situations arose. Things happened, and here we are today. But none of it would have happened if we hadn't bought this house.
Things weren't always easy. Not at all. We nearly went under more than once. But we didn't. We stayed together. We stayed strong. We kept fighting for the life we wanted.
Now Ryan owns his own company. I am a writer with 2 published books. Our kiddo goes to a school where they announce as you walk in the door that you are LOVED when you are there.
I'm not sure it gets any better than that.
I always find it so interesting to look back and find that fork in the road moment. That moment where, if you'd turned right instead of left, everything would be different.
For us, that fork in the road, was buying this house. Everything would be different if we'd chosen another house.
What I find even more fun is this… if you train yourself to do it, you can turn a moment of frustration, annoyance, feeling taken advantage of, and turn it on its head. You can turn that bad feeling moment into tears of joy in an instant. It just takes an open heart and a willingness to look for what's good in the world. It takes being willing to let go of feeling bad and allowing yourself to feel good. It really is as simple (and as hard) as that.
The best way to start is to start looking for your joy.
What's your joy today? 
Here's mine: (feel free to share pics of your joy in the comments!)
First day of 4th grade!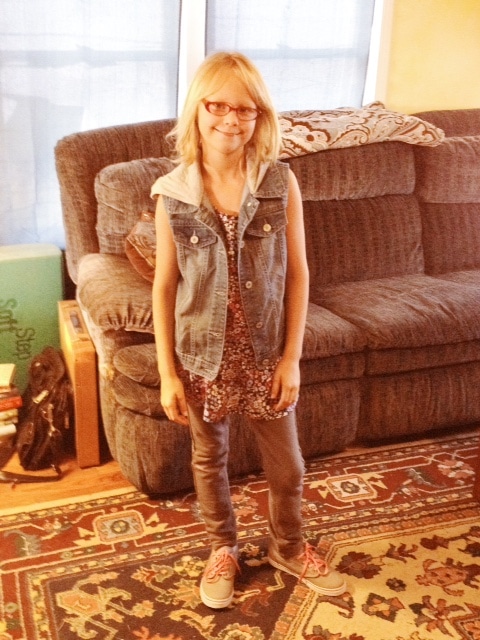 The launch of my second book!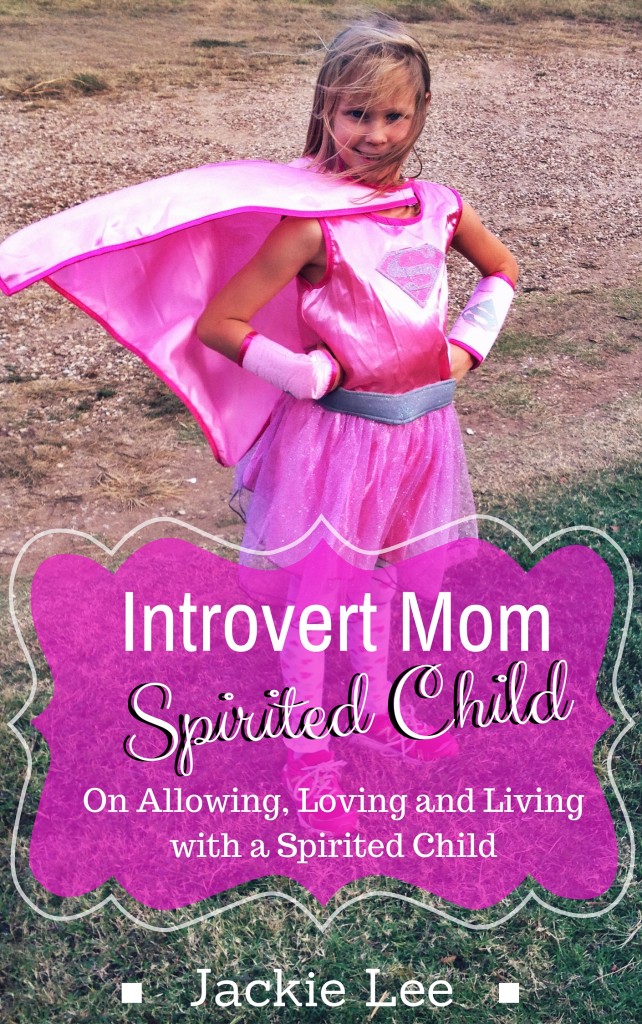 I wish you happiness, and love and to finish your 750 words. 🙂