Blackie: The Horse Who Stood Still: The Horse Who Stood Still

by Christopher Cerf, Paige Peterson
Published by Welcome Books on May 6th 2014
Genres: Children's
Pages: 64
Buy on Amazon (aff link)
Add to a Goodreads Shelf


In a pasture in Kansas one early spring mornA horse quite unlike other horses was born.His coat was coal black so they named the horse "Blackie,"And before very long folks found out he was wacky!
Meet Blackie, the stubbornly motionless equine hero of Christopher Cerf and Paige Peterson's delightful and touching biography-in-verse, Blackie, The Horse Who Stood Still.
See, most colts are frisky but Blackie was not.Blackie liked standing still! Yes, he liked it a lot!"What's the hurry?" thought Blackie. "There's so much to seeStanding here in the shade of a juniper tree…..
This (mostly) true tale tells the heart-warming story of a horse who made standing stock-still a lifelong endeavor—while becoming a champion rodeo horse, a tourist favorite at Yosemite Park, a legendary environmental crusader, and the beloved mascot of one of America's most beautiful towns, Tiburon, California, on the shores of San Francisco Bay.
The word quickly spread 'bout the new horse in townAnd from all 'round the county young kids headed downTo the pasture where Blackie could always be foundStanding still, like a rock, on the same patch of ground.
Magically illustrated by Peterson's lyrical paintings, Blackie is destined to become a children's classic in the tradition of Munro Leaf's Ferdinand the Bull and Dr. Seuss's The Lorax, The playful, clever, rhyming text will charm adults and children alike as it delivers an important message about appreciating and preserving the natural beauty around us.
"What a beautiful place!" Blackie thought when they got there,"I simply can't wait just to stand in one spot thereAnd watch a gull soar, or a tree gently sway,Or the fog rolling in from the hills 'cross the bay…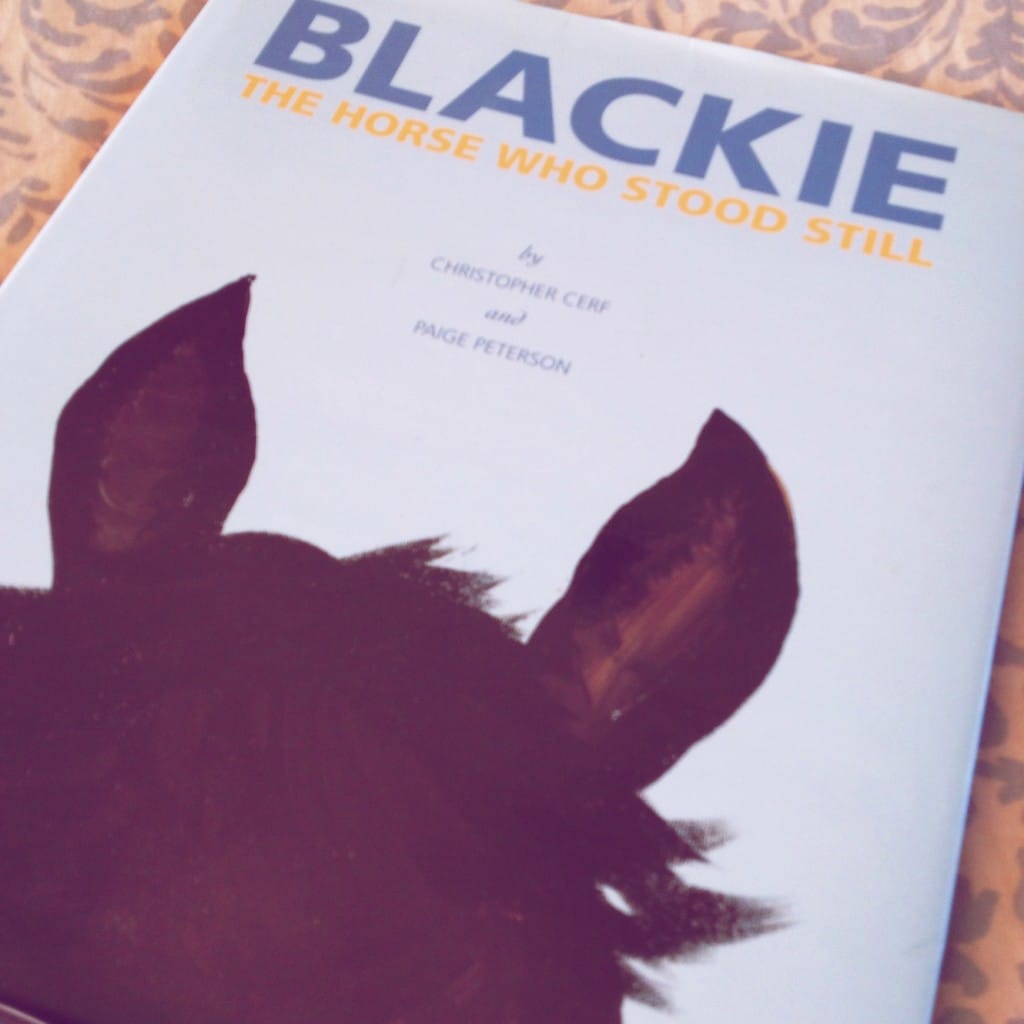 I'm still not finished with any of the 3 books I'm currently reading, so I thought I'd pull a book off the kiddo's shelf for today's book review. Hanna got this book for Christmas this year. It has a black horse on the front… can't really go wrong there.
However, this is not just some silly little children's book. There is actually quite a bit of depth to this book, with a couple of themes running through it. This is also a book based on a true story. I love true stories, and it doesn't hurt that this special horse was born in Kansas. 🙂
Blackie is a horse who just likes to stand still. From the time he was born he only wanted to stand still. Even though he was different from other horses, who liked to run and play, he still managed to do many incredible things in his life. Things that being different, you wouldn't expect him to be able to do, like become a champion rodeo horse, a favorite of tourists in Yosemite Park, an environmental crusader, and a mascot for an entire town… all while standing still.
This book gently and without trying too hard shows us how it's ok to be ourselves. It's ok to be different, and even when we're different we can still have an amazing life and do many incredible things.
On another level it also talks to us about the power of just standing still. Of taking time to notice what's around you, to notice the beauty in things you see everyday.
The last lesson it shares with us is to stand strong for what you believe in, to not be swayed by the pressure of others to be something you're not.
When I picked up this book I thought it was going to be a cute little story about a stubborn horse. It was, and so much more. Hanna is begging to read it together, over and over, and I look forward to that as well.
Whether you've got young kids, or older ones, the layers of messages will work for them all, and stand the test of time. I can see this book being one that stays on the shelf for many years to come, and remains a favorite (for her and myself lol).