Every year I look forward to coloring Easter eggs with Hanna, not only because it's fun, but I love boiled eggs and I never seem to think to make them except at Easter. 🙂 This year was no exception. We had a ton of fun. We invited Grandma over to help out, and started out with 2 dozen eggs. Those eggs lasted all of about 37 seconds, so I boiled up another dozen right then.
Looks like we'll be having Deviled Eggs for Easter dinner. 😉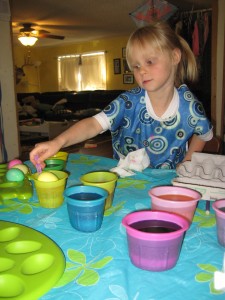 I like to try new and different things each year. We don't get super tricky, but there are always some new and cute looking coloring package. A couple years ago we did "glitter eggs" and those were pretty fun. This year I saw a friend of mine had done dinosaur eggs with her Grandkids and thought those looked VERY fun. I'm a fool for tie dye, so when I saw a tie dye egg kit, that definitely went into the basket. 🙂
I made the big mistake of using the tablets from more than one kit. (We keep the egg coloring cups ~ even the flimsy ones ~ for painting throughout the year so I had plenty of cups to use) This was a problem because I had maybe 8 or 9 cups of color and Hanna dropped one in each cup and bang… a dozen eggs is almost done in 5 seconds. (and we hadn't even gotten to the tie dye box yet!!)
That's ok. We took them out of the color and played around with them. We also mixed colors to see what would come out. Our favorite was definitely the bright pink and blue ~ which made a gorgeous purple color. We also learned that if you dip the egg in blue and then yellow it makes green, and it doesn't matter if you do the blue first or the yellow first, it makes the same color of green. (try it yourself and see!)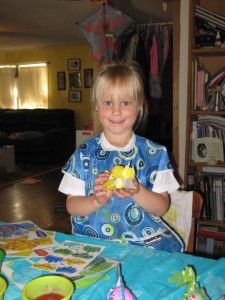 The tie dye was not exactly what I expected. The directions didn't quite make anything like they looked on the box, but a little experimenting and we got some pretty (but not so) tie dye eggs lol.
The dinosaur eggs that looked so amazingly cute in Mary K's pictures didn't look quite that cute at our house. But when we took pictures of them, they looked a little bit cuter. hmm…
All in all we had a great time and though we REALLY need the rain I'm keeping my fingers crossed it will hold out until Sunday afternoon so we can hide these 3 dozen eggs outside. 🙂
You know as soon as we finished dyeing our eggs I found a couple really cool posts about how to color easter eggs (without using the package lol). One of which I almost made more eggs to try… but didn't. Who says dying eggs has to be ONLY at Easter? I think it might make a fun project for whenever.
Anyway, the great idea comes from Sandy at Moments of Mommyhood. She used tissue paper to color her  eggs. The process looks really fun and the end product is gorgeous! AND it might take a little longer than 37 seconds to do. 😉
Another way of coloring Easter eggs I'd REALLY like to try next year is using natural dyes made from food. I think this will be a lot of fun, and Hanna will be a little older and it will be some good learning for her as well as fun.
So tell me… how did you dye your eggs this year? What methods would you like to try next year?