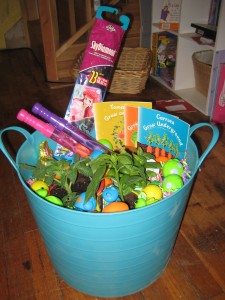 We're a family who tries to eat healthy, whole food. When holidays come around it is sometimes a challenge to stick to our values, especially when the holiday centers around 1 pound solid chocolate Easter bunnies.

However, this year, I had some healthy Easter basket ideas. They're  a little outside the box, but I think they'll go over big.
Lose the "basket" and the green plastic grass.
This year I decided to move away from the regular basket, with candy and junk and put together a "basket" that will last for the whole season, will teach lessons, and help her learn more about rebirth as well as  where our food comes from.
I grabbed a metal bucket ~ a pretty one ~ but then I found a better flexible tub (same color), that was a little cheaper. The container you choose is totally up to you, just find something that's reusable, that can serve the purpose of being a "basket" but then become something else as well. Also if you need some "grass" to put in your basket you can make your own Easter grass. I was going to, but our shredder is broken. I did find great grass in the flower arranging area that was made of paper instead of plastic.
Once I had the bucket I had the idea to make it a planting basket. There are so many cool themes you can do for container planting, I decided, since my daughter loves spaghetti to create a "spaghetti" garden for her. I picked up a tomato plant (a small container variety), a basil plant, and a bell pepper plant. The bucket is fairly large so all three should easily fit in there.
Now I do want it to be fun too, although Hanna loves to plant and garden, so I'm sure she'll think it's fun, but I wanted to include some fun toys. I grabbed some bubbles (always a favorite), and a hula hoop, which she's been wanting for a while, and a kite!
I also picked up a crack it snapdragon. It's basically snap dragon seeds planted in ceramic egg. You crack the top of the egg and then water it, and the plant grows in the bottom half of the egg. Cute.
Last month in my scholastic purchase I picked up some books about gardening and planting, and I will add those in as well. Hmm… maybe I'll even throw in an envelope of carrot seeds (although we have already planted some carrots ~ and they're not coming up)

I did get some prefilled eggs, because once in a while after eating a good lunch she'll get a small treat during the day. I figured the eggs could be that treat. I did make sure to look that I got prefilled eggs that didn't have GUM in them. (which was very hard to do). I could have bought eggs and filled them myself, but hey, I'm a little bit lazy and I'm running out of time. I also got her a small chocolate bunny.
The point is not to deprive her of goodies, but to make rebirth and growth more of the central theme of the basket and the candy and goodies a nice extra.
I also bought potting soil to plant her plants in. However, for the basket I put a bunch of grocery bags that we're getting ready to recycle in the bottom and then put the grass on the top. We'll do the planting when Easter is over.
So that's my idea this year for a healthy Easter basket. What about you? What do Easter baskets look like at your house?
Stay tuned Friday for our egg decorating escapades.

Grandma's coming over this afternoon and we'll be doing them up with a variety of methods.