Friday night was Hanna's second ever "fun show". It's a horse show, with the emphasis on fun. She participated in 6 events. She placed in all 6. I had so much fun watching her. I was insanely proud of her.
One last video from last night's show pole pattern.

Posted by Jackie Lee on Saturday, June 20, 2015
She brought home a poster and 6 ribbons from the night.
I had these big plans. I was going to get a nice frame. Frame the poster and the ribbons. Something beautiful to commemorate her big night.
This morning she decided to rearrange her room, which meant taking the tent down. As we were rolling the tent I saw the ribbons, and the poster on the ground. The poster was torn up and the ribbons were wrinkled.
I immediately became angry. She didn't understand why I was angry. She didn't understand why I loudly complained that she never takes care of her stuff.
I stormed out.
She started crying.
A little while later she came into my room. She said she was sorry. I asked about what. She said, "I dunno… for ruining the poster kinda?"
sigh.
She sat on my bed behind me. I stared out the window, still mad.
She said, "I don't understand why it's such a big deal."
I got emotional. (I get emotional lol). I told her it was such a big deal because it was a big accomplishment for her. She hasn't been riding all that long. This was only her second show, and she did sooooo much better than last time. I was really proud of her. That's what made it important to me.
She was silent.
As I sat there I started thinking. That night, I was pretty focused on how well she was doing. I was noting all the other kids' times as they finished events. I posted to facebook how she placed and her time after each event. I excitedly went back to the warm up ring when it was over and gushed to her about how she'd placed in every event she was in!! She had no clue. "Oh really?" she said, "I got Jesus to lope in this ring! Sometimes I just let him stand there and rest. Did you see how he just went right from the start. I think Natalie was right, that bath made him a new horse."
Not once did she even care about her times, or placing in the event, or that some other family brought their professional rodeo horses and pushed her out of first for many of the timed events. Nope. She did not notice any of this.
It was a FUN show for her.
As proud as I felt watching her. As much as I cared about her placing and improving… she cared just as much about having fun. She didn't care about ribbons, or the poster. That's why she didn't "take care" of them. She cared about getting to ride a horse for 4 hours straight. She cared about not having someone tell her exactly how to ride, and what to do for those whole 4 hours. She cared that Jesus was ready to go and picked up the right lead when she asked for it.
Ugh. I feel a little awful, but I guess it's good to remember that what matters to me doesn't always matter to her, and that's ok. It doesn't have to. If anything,  I should frame the poster and the ribbons for myself, and hang them in my room. Let her keep the memories of having all those hours with Jesus all to herself.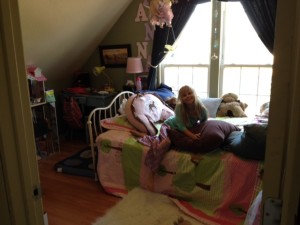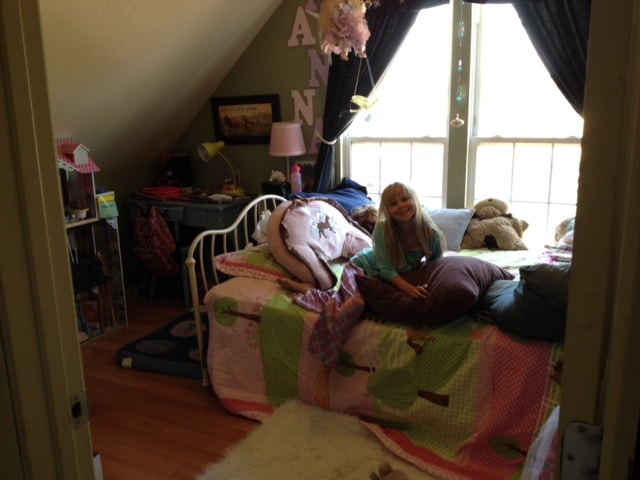 She's half way through the room rearranging. I'm still contemplating the whole situation… she's just having fun. Maybe yet another lesson I can learn from her lol.