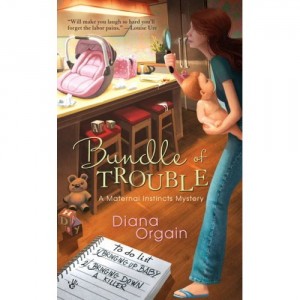 Bundle of Trouble (A Maternal Instincts Mystery Book 1)

by Diana Orgain
Genres: Fiction
Buy on Amazon (aff link)
Add to a Goodreads Shelf


A body has been dredged from the San Francisco Bay. Kate Connelly, pregnant and ready to pop, has reason to fear it may be her long lost brother-in-law. Battling sleep deprivation, diaper blowouts and breastfeeding mishaps she muddles through her own investigation, Mommy style:

To do: 1. Find Killer 2. Figure out hideous breast pump. 3. Avoid cranky cop. 4. Send out Make birth announcements – need pink paper. 5. FIND KILLER
I love a good mystery novel, getting lost in the pages of a book is one of my favorite past times. When I saw "Bundle of Trouble  A Maternal Instincts Mystery" by Diana Orgain I thought this could be a really great book!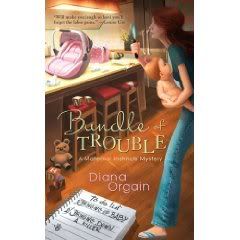 It all starts with a call from the coroner. It's possible Kate's brother in law has been found dead in the bay. That day she goes into labor. Once the baby is born and she gets home the mystery unfolds. Kate dreads going back to corporate America, having to leave her precious newborn.  As she begins to unravel the mystery she starts thinking maybe she could be a PI and be able to be home more with her baby.
The thing I particularly love about this book was how spot on the feelings she has are. The first time mom feelings about herself and her newborn daughter are portrayed exactly right. It took me back to the first few weeks I was a mother, and I could totally relate to Kate, her feelings, and her dilemmas.
This book is an easy read, it pulls you in and keeps you interested from beginning to end. The author even caught me by surprise at the end ~ which I always love.
It's a good thing I got this book on a rainy Saturday, because it was tough to put down, and I ended up devouring it all in one day!!
If you like a good mystery I highly recommend "Bundle of Trouble A Maternal Instincts Mystery" ~ if you are a new mom, or can remember being a new mom, I double recommend it!