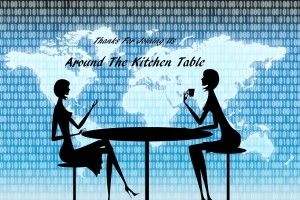 Well, Mary K and I hosted the  first "real" episode of our "Around the Kitchen Table" radio show this morning.
It went really well, although I think there might have been some sound glitches here and there. I was pleased and excited to get to talk to Diana Orgain. She is a mystery novelist, and I just love her books!In fact, I reviewed her newest book Formula for Murder last week. We had a lovely talk and I found it really interesting how she writes, and is able to consistently publish books ~ her way is so different than my way of writing, that it was really interesting to me.
So anyway… here's the show from today. Enjoy, and you're welcome to join us next week live at 10a CST for Around the Kitchen Table ~ it's a great little coffee break for work at home moms.