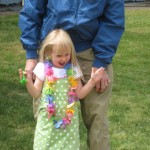 Last year for her 4th birthday my Mom gave Hanna a Peg Perego Gator. It was pretty cool… it looks just like a regular John Deere Gator! While I wasn't sure I really wanted her to have a ride on toy, I didn't have much say in the matter.
We opened all the gifts, and then once she thought she was done, we had her cover her eyes and they took the Gator out of the back of the truck. She turned around, and the look on her face was priceless!
She immediately jumped in and took her friends for a spin around the yard. The ride on gator has 2 speeds, which is good. The lower speed only goes up to 2.5 miles an hour. We (because I'm a scaredy cat) kept her on the lowest speed for quite a while. We only recently upped the speed to the next level (the levels are controlled by a lockout switch) which allows her to go up to 4.5 miles an hour. This seems a lot faster, but now that she's older she seems perfectly capable of controlling the gator, and steering it appropriately. It also comes with reverse, which you get in to by pushing down on the "gear shift". The reverse goes up to 2mph.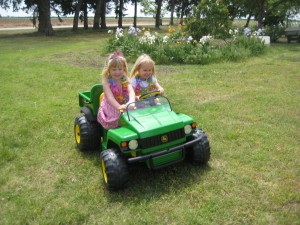 The Gator came with one battery, and while we used it in the lower gear the battery lasted a LONG time. It seemed to go on forever. I have noticed once we switched up to the higher speed the battery life seems quite a bit less. We can usually play for a day or so, it seems before it starts to need recharged.
The recharging is really simple though. You unhook the front piece and just clip the charger into the battery. It is really simple. I usually try to do the charging overnight so it doesn't cut into play time.
This gator is just as tough as any other John Deere Gator. She helps me with gardening, and picking up branches. She will pile all the weeds/branches in and then drive them over to the burn pile. It's totally helped me out, now I don't have to push the wheel barrow over! The back is a real dumping cargo bed. The back swings down and then you can lift up the entire bed to dump your stuff out.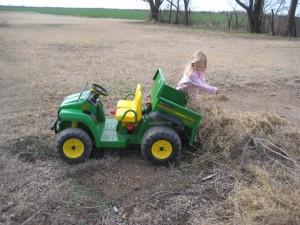 It  steers quite well, and as long as she can watch where she's going she hasn't had any problems with steering, and getting where she wants to go. I did have to teach her how to do a three point turn so she could get out of tight spots, which was pretty interesting. Once she learned that she's been fine.
There are times when the gator seems to get stuck, this is especially true going up fairly steep hills. The tires are a hard plastic, instead of rubber. However, when she gets stuck she can usually go backwards, then forwards again to get unstuck. If that doesn't work she just gets out and gives it a push to get it to a place where she can get going again.
It's nice there's room for two in the gator, because when her friends come over that's the first thing they want to do, is drive around. There's cup holders on both sides of the vehicle so each kiddo gets to bring a drink.
If you're thinking about getting a ride on toy for your kiddo, the John Deere ride on gator is a good choice. We live in the country, and Hanna's daddy drives a John Deere tractor to do the farming, so it was a perfect fit for us. She loves riding in the tractor with her Dad in the fields, and loves driving her gator around the yard.
We bought this locally, but you can get an even better price from Amazon.com