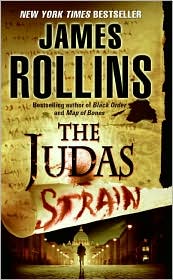 The Judas Strain: A Sigma Force Novel

by James Rollins
Series: A Sigma Force Novel
Published by HarperLuxe on July 3rd 2007
Genres: Fiction
Pages: 704
Buy on Amazon (aff link)
Add to a Goodreads Shelf

ju·das strain, n. A scientific term for an organism that drives an entire species to extinction

New York Times bestselling author James Rollins returns with a terrifying story of an ancient menace reborn to plague the modern world . . . and of an impossible hope that lies hidden in the most shocking place imaginable: within the language of angels.
From the depths of the Indian Ocean, a horrific plague has arisen to devastate humankind—a disease that's unknown, unstoppable . . . and deadly. But it is merely a harbinger of the doom that is to follow. Aboard a cruise liner transformed into a makeshift hospital, Dr. Lisa Cummings and Monk Kokkalis—operatives of SIGMA Force—search for answers to the bizarre affliction. But there are others with far less altruistic intentions. In a savage and sudden coup, terrorists hijack the vessel, turning a mercy ship into a floating bio-weapons lab.
A world away, SIGMA's Commander Gray Pierce thwarts the murderous schemes of a beautiful would-be killer who holds the first clue to the discovery of a possible cure. Pierce joins forces with the woman who wanted him dead, and together they embark upon an astonishing quest following the trail of the most fabled explorer in history: Marco Polo. But time is an enemy as a worldwide pandemic grows rapidly out of control. As a relentless madman dogs their every step, Gray and his unlikely ally are being pulled into an astonishing mystery buried deep in antiquity and in humanity's genetic code. And as the seconds tick closer to doomsday, Gray Pierce will realize he can truly trust no one, for any one of them could be . . . a Judas.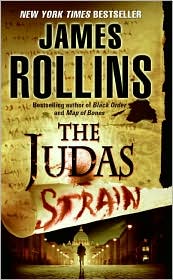 I decided, since I love to read, it would be worth sharing my thoughts on books as I read them. I just finished reading The Judas Strain by James Rollins. I've been on a Rollins kick lately, and have read about 4 or 5 of his books in a row. The thing about James Rollins is this: they keep getting better!
Many times I'll find a new author and read a few of their books and end up not enjoying the later ones. This is not the case with James Rollins. He has basically 2 sets of books going on… the Sigma Force Series, and then the rest of his books. I have read some of both sets and really enjoy them. The Judas Strain is part of the Sigma Series. I like this series a lot because the same characters are in all the books. You start to feel like you really know them, and you're part of their lives, which is fun.
The Judas Strain is about  a bizarre disease that hits Christmas Island. A cruise ship is used to create a hospital and quarantine the island residents. Sigma Force is sent in to try to puzzle out the mystery of this strange affliction. They quickly find their arch nemesis "the guild" at the bottom of things. Things just get weirder and weirder as the book goes on, including lots of deception ~ or is it truth, amongst the team, and other key players.  The mystery leads back to the past and Marco Polo…the way history and the present collide, mix, and mingle and the answers that can be found from something that happened so long ago… it's all very intriguing.
This book, like all of his books I've read so far, is a real page turner. As with many of his books you'll find a fun twist on the last page…
If you like adventurous mysteries, with a touch of fantasy ~ that has enough threads of reality mixed in to make you question whether or not this could "really" happen ~ this is going to be a don't miss book for you.
You can get this book in Hardback, Paperback, and Kindle editions… and you'll find used copies for as low as .01 at Amazon.com.