I've been having awesome results with The Challenge. I just had the best time shopping for new shorts at Old Navy ~ buying the smallest size I've bought in over a decade ~ and feeling great.
However, when it comes to sharing the challenge… that's been tougher. There's been a feeling of doubt, and concern, maybe even some fear… what will people think? What will they say? Will it work for them?
Tons of questions ~ and EXCUSES running through my head when I think about saying something out loud about it to others ~ whether it's on Facebook, or in real life.
Until last week… I had a bit of an epiphany last week. 
I started thinking about the things I share with no hesitation. I thought about the things I share and don't care what other people think. I thought about the things I share, and if people made negative comments about me sharing, my position would be "then unfriend me if you don't like it".
Those things were pretty easy to identify.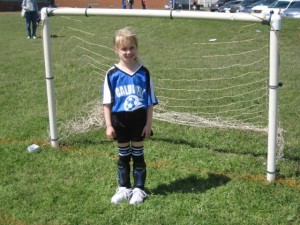 My kiddo ~ I never think twice about blabbing on about how awesome she is, or the cool things she does, or sharing pictures of her and the things she does.
Never once have I thought twice about that.
Recipes and cooking stuff ~ don't think twice about that either. Who doesn't want a great new recipe!
A new workout ~ I love finding new workouts and don't think twice about posting and telling the world about a new find.
What I realized all of these things (and more) had in common was this…
They are just PART OF WHO I AM. 
I am a mom ~ if you don't like it, we're probably not a great match as friends.
I am a cook ~ I love to cook and if you don't like to hear about new recipes, and healthy cooking, again, we're probably not a great match for friendship because being a healthy cook is part of who I am and I talk about it a lot lol.
I am getting fit ~ it's part of who I am now… it's part of my lifestyle. Sometimes I fall of the wagon, sometimes I get over zealous, but wherever I am in my fitness journey ~ it's part of me and you're going to hear about it if we're friends.
SO…
What makes The Challenge so different than any of these things?
I'll tell you…
It had not become "part of me". It was still "something I was doing". It was still  "a business I was working on". It had not become PART of ME.
As soon as I had that realization ~ it changed in an instant. 
I don't just drink two shakes a day now… I'm the shake lady ~ and just like pictures of my kiddo at her first soccer game ~ if you don't want to see them, then we probably shouldn't be friends ~ because the Vi Life is part of me now, and you'll be hearing about it.

Which doesn't mean you have to join the challenge ~ although you could ~ but it does mean that as part of my life, I'm going to share it.
The thing is… I don't think I'm alone in this. 
I talked to a couple friends after I had this realization and asked them this question…
"If being the _____ lady was just part of who you are ~ like being a mom or a cook ~ would you be sharing it more? Would you care what people thought?". (just fill in the blank for whatever business you're involved in, whether it's sending out cards, or selling stamps or scentsy)
It  seemed to have set off a couple A-ha moments for people.
What about you… 
Is your business, just a business to you, or is it part of who you are? If it's not part of who you are (yet) can you see how that might make a huge difference in your ability/willingness to share it with others? I'd love to hear your thoughts.