Being a work at home mom who hates to exercise (and it's too cold to ride my bike) makes it tough to lose weight. 🙂 I love cooking healthy food, but still kept gaining. 🙁
Just over 90 days ago I started the Body by Vi Challenge. I decided to give it a try and see how it went.
Well it went CRAZY!!
I started drinking 2 shakes a day ~ and eating a healthy dinner with my family and low and behold the inches just started melting off (without exercise!).  Take a look at my results!! (click the picture to make it bigger)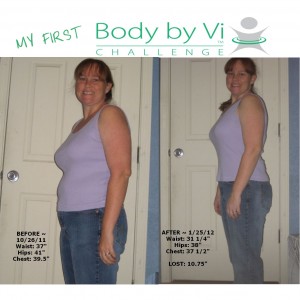 I lost 10.75 inches over the last 90 days. Went from a size 16 to a size 10! Yeah, I couldn't even believe that one! Thank heaven my lovely family got me gift cards for Christmas. I've had a blast shopping for new clothes (which is something I usually hate to do!).
I posted my pics on facebook and received such an overwhelming and wonderful response I was just moved. 🙂 It made me want to share a little more of my story ~ the back story ~ where I came from and how I got where I was … but also the  "TO BE" story… where I'm heading next and what my next challenge is all about.
So take a look… (and yes, that's a wonderful new shirt ~ LOVE being able to wear "nice" clothes again!)
Here's the bad news… the friend that introduced me to the Body by Vi Challenge actually introduced it to me WAAAAY back in April of May of last year. Yep, I put up a wall, and said "that's not for me" all the while getting bigger and bigger. Heaven only knows where  I might be at this point if I'd gotten started right away… Man I might have even had FUN at the pool last Summer! Well there's no use going down that road.
BUT… if you want to do something about your body, your health, your fitness… join me! Take the challenge. Don't put it off for another day, month, 6 months! Today is the day! 🙂
Shoot me an email, or message me on Facebook. Let's talk about your goals and what we can do together to help you accomplish them. 😀 WOOT.
Can't wait to hear from you!