Have I mentioned how much I love my crockpot lately?
I sure do. I love throwing stuff in in the morning, and dinner magically being ready at the end of the day. I love how low maintenance it is, and how even if you forget to defrost your meat you can still have dinner ready by 6.
I also love my crockpot because we are experiencing a time of crazy schedules… nope, it's not the kiddo and sports, but the husband. He's working some weird hours, and I'll be honest… he doesn't always get a wonderful meal when he comes home 3 or 4 hours past dinner time. But I got to thinking… if I made crockpot meals I could just set them to warm until he got home, and he too, could have a warm home cooked meal; which is what I strive to provide my family, most nights of the week.
Before Hanna goes back to school every year we spend some time making lunches to freeze. I was getting that list ready to go and thought "hmmm… what if I did this for the crockpot for dinner?!".
Off I scrambled to Pinterest where I quickly realized I was not the only one with this thought.
I started pinning all the posts I could find on Freezer crockpot recipes on a canning and freezer board I had and then realized it would be smart to set up a separate Freezer Crockpot board. I'm still moving things over to it, but the next step was to set about narrowing down the options. 🙂
I finally chose a couple posts to work from. I chose them because they were food it sounded like my family would actually eat, and they both had detailed grocery lists, they had really specific instructions about what to do and write on each bag, so there was really very few ways I could mess the process up!
I printed out all the recipes, and the grocery lists.
Went shopping (making sure to get plenty of large ziploc bags).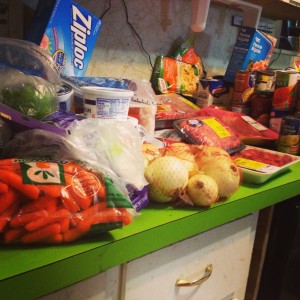 Came home and got all the bags I would need out, wrote the recipe name, any instructions on them, and how many meals each bag would make.
Then I went through one at a time, and cut/chopped and put all the ingredients for each recipe in the bag.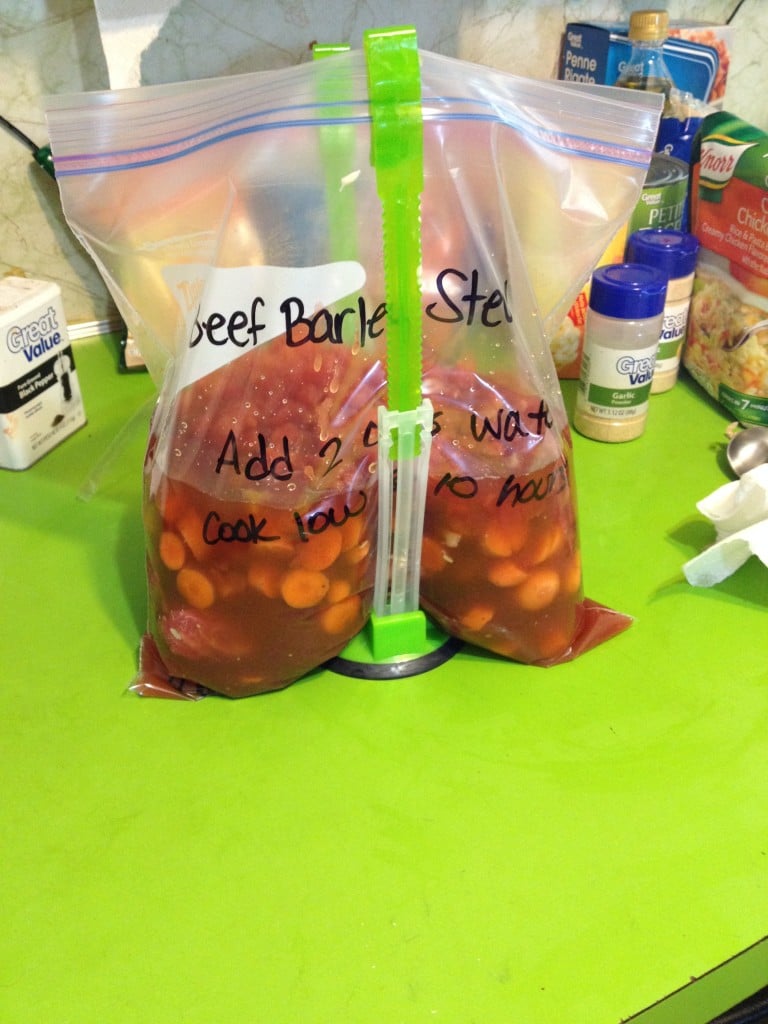 There are a lot of people who prep everything for all the recipes at once, and then just assembly line through it… but I had a little helper and it seemed like going one at a time was a better option, that allowed for fewer mistakes. It worked out really well.
It also allowed us to take breaks when we got tired. If we'd had everything prepped I am pretty sure I would have gotten all anal retentive and a wee bit crazy about getting it all done right.now.
We started with the easiest recipes, and the most I really had to do was chop up some onion and some veggies. Once the ingredients were in the bag I zipped the top trying to get rid of as much as air as possible, and stuck it right in the freezer.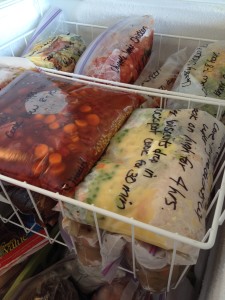 I used the wire racks that hang at the top of our freezer, so for some of the more liquidy recipes I used a flat pan on the bottom and put the bags on top of that, separated by some parchment paper so it wouldn't freeze into the squares of the wire, or to each other. That worked out really well too.
We just kept going.., one recipe at a time, until we were done. It took us about 3 hours all together I'd say. 2 one day, and 1 the next… we didn't realize just how close to being done we were or we probably would have just kept going. 😉
Here's the two posts I followed, 10 meals in 3 hours over at Six Cents and Freezer Crockpot Meals by Busy Budgeting Mama,  but like I said, if you just set up a Pinterest board for yourself, and do a quick search for freezer crockpot recipes on Pinterest you'll find lots of choices. Oh… one more thing. I don't really have any problems using "cream of" soups… quite a few of the recipes in my chosen posts use them. If you do have issues using "cream of" soups, there are options out there… you'll just have to dig a bit to find them!
When you're ready to use your meal, just pull it out of the freezer (some people pull them out the night before and let them defrost… I've never done that). Run the bag under warm water for a few minutes so the ingredients is no longer stuck to the bag, and dump it right in. Follow directions you've already written on the bag.
Go on out there and enjoy your life. Dinner will be ready when you get home.