Part of being a successful work at home mom is being able to step away from the computer from time to time to have fun with my kiddo. I am a SUCKER for tie dye ~ yes, I know I'm too old and all that, but I love it! I'm trying to make Hanna a sucker for it too!
This week I took some time to look through some Youtube videos about how to tie die shirts. There are a LOT of them! Here's one of my favorites: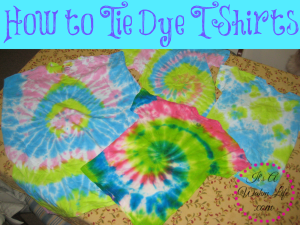 After watching the videos I was pretty excited to get to it. We ran to town and found even our little tiny Walmart had 5 or 6 different tie dye kits. I let Hanna pick the color kit she wanted. We ended up with a 3 color kit with blue, pink and green.
One thing I particularly love about tie dye ~ and found that I loved about doing it was there is no right or wrong way to do it. Hanna (and me lol) have a tendency to have to do it "right"… this was a fantastic lesson in there is no right. There were a few times when she asked me if she was doing it "right", and I was very excited to be able to tell her there is no right, whatever you like is right. Whatever you do is going to work ~ because it's tie dye!
With the kit we received squirt bottles ~ and all you had to do was add water to make the dye. Super easy. With the squirt bottles it was really easy for her to do her own shirt ~ which was awesome!
Before she started applying the dye we talked about colors, and when they mix what do they make so she could make some decisions about where she wanted to put the colors. She wanted some purple on her shirt so she figured out she had to put the red and the blue next to one another. Not sure how exactly it happened but we also ended up with some yellow in one of the shirts ~ it must have pulled out of the green. You never know what exactly you're going to get… but that's part of the fun!
I didn't realize you have to let the shirts sit for a WHILE… like 6 to 8 hours it said on the package. By that time Hanna was in bed, and I just couldn't wait to see how they came out. 🙂 We made one for me, one for her little cousin Addie (who we'll see next week) and one for her. We did the spiral design on those three, and had a little dye left over so we did an experiment on another small shirt.
I opened up all of them but hers ~ figured I'd let her do her own in the morning. The colors were really bright, and the spirals came out great. Hers is the bright one in the photo ~ I haven't rinsed it out yet, so it may fade when I do. All in all a very fun activity.
You're all set to tie dye t shirts now… let me know how it goes!