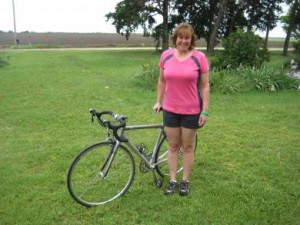 Back in Summer of 2009 I'd taken up biking. I'd bought a Giant mountain bike (after a bit of a fiasco with a generic Walmart bike lol), and started riding. Just after getting my bike I made a decision. I decided I was going to ride in an organized ride. I looked online and found one at the end of the Summer. Walnut Valley Metric. I made the decision, right then, and there that I was going to do the ride. I signed up, made arrangements for my mom to watch Hanna. I chose the 37 mile route and got on my bike. I started riding, and riding and riding. I had no idea how to train, or how to prepare, I just figured if I kept riding I'd be fine.
My husband didn't think there was any way I could get prepared in just a couple months to tackle such a long ride… but I didn't listen. I just kept riding.
On September 28, 2009, I completed the Walnut Valley Metric. I was so proud of myself. My feet were so sore I could barely walk when I got off the bike… but I'd made a decision, and I'd stuck with it, and I'd accomplished what I set out to do.
There have been MANY other times in my life when I said I was going to do something. When  I thought I'd made a decision. When I thought I really wanted something… but it just never panned out. I never took the action to make it happen. I second guessed myself right out of creating what I wanted.
The difference between these times and Walnut Valley… a decision. A real decision, made and sent to my unconscious mind that this IS going to happen. There's a huge difference between making a decision and thinking you're going to do something.
Nothing, and I mean NOTHING in your life will change, until you make a decision. When you make a decision, everything shifts.  In an instant. Your conscious and subconscious minds begin working together and they move you in the direction of the things you need to do, people you need to meet, things you need to think, resources you'll need to make whatever it is you want happen.
So now is the time to ask yourself, if you've actually made a decision. If you haven't… it's ok, you can make a decision any moment of any day and turn everything around. 🙂 There's no time like the present.