We have this crazy patch of space in the middle of our walkway. When we moved in I filled it with Iris. For some reason, my husband didn't like it and at one point I took them all out. Then the space just ended up being a big weed pile.
A few years ago, a couple random trees showed up, and Ryan "planned" to pull them out, because we didn't really want trees that close to the house. However, that never really happened. Now we have two nice sized trees in this space, and some of the iris have come back from no where. AND some Holly Hocks have magically appeared there as well.
The Holly Hocks started showing up a couple years ago, but Ryan didn't know they were plants and mowing them down with the weedwacker. This really annoyed me because they were the only ones I had in that color. (a delicious magenta).
So this year I've decided to reclaim my garden space. It's my plan to turn it into a nice butterfly and bird (pretty much perrenial) garden.
Some bermuda grass has crept in the irises, and I'm going to have to do something about that. A neighbor mentioned that Grass be Gone could get rid of the bermuda and is safe to spray on flowers. (Although they mentioned Iris might be one that it could kill ~ so we'll have to see??)
I was going to make a big bird bath to go in the middle, but then realized I have had this piece of wood laying around since we moved in (10 years ago) because I think it would make a perfect garden bench. Instead of creating a tall bird bath I decided to go ahead and make the bench and set a small birdbath right on the bench. It looks just lovely.
The Holly Hocks are getting ready to bloom, so I'm working around them, trying to get the ground tilled up and more flowers added. Just not sure exactly what I want to put in there. I do like things that are low maintenance, and colorful. I have a finch feeder hanging in one of the trees. I have been attracting more and more birds lately, and would love more butterflies as well.
Here are some pictures of what it looks like right now ~ I thought I'd keep posting as it comes together so I will have a record of its progress ~ and so you can give me some ideas and tips as I go 😉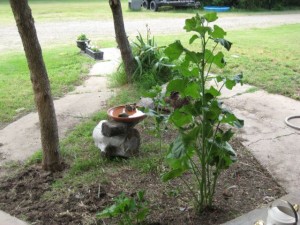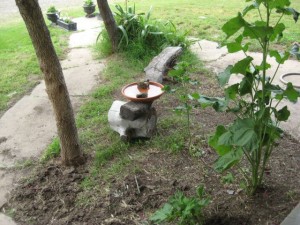 Like I said, if you have any hints or tips ~ I'd love to hear them.