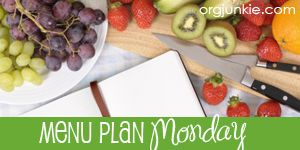 We haven't done terribly well this month with sticking to our menu plan, however, we've done better about eating at home instead of just eating out on a whim… mostly. Here's the plan for this week.
Hamburgers
beans
Chicken Cacciatore (crockpot)
Rice
Green Beans
Pork Chops (grilled)
scalloped potatoes
mixed veggies
Thai Crockpot Chicken
Rice
Green Beans
Spaghetti with meat sauce
Salad
Tuna Casserole (with veggies included)
Turkey Soup (using the last of the turkey)
homemade bread
So there you have it. I think I only have 5 or 10 things I have to get at the store this week (mostly breakfast items for my husband) but otherwise we're eating out of the pantry and freezer this week.
If you need some more menu ideas check out the great menu plans at orgjunkie.com , we're all linked up and there are some amazing things on the menu over there!
Click here for more