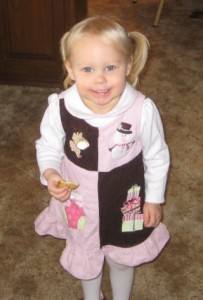 Today Hanna and I were invited to our local club Christmas party.  The local club is something I only became familiar with when we moved to the middle of nowhere. It seems country/farming women gather once a month to visit with neighbors and have lunch.
My mom is a member of one such club and invited us to the Christmas party which is always thrown by her neighbor.
The Christmas party is always quite nice. The house is decorated with about 250 angels. In fact, today that was one of the games she had us play. We had to count the angels in her house. The person who came closest won a prize.  I counted and counted and only came up with 199!
It was a little surprising when she announced there were 250. lol.
There is also gift giving, and this year I received Potato Soup Mix in a jar.  it was handmade and quite lovely.  I thought it was such a great gift, I asked for the recipe. It's so easy and would make such a great gift I thought I'd share it with you.
Potato Soup Mix in a Jar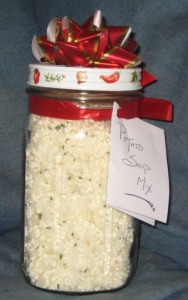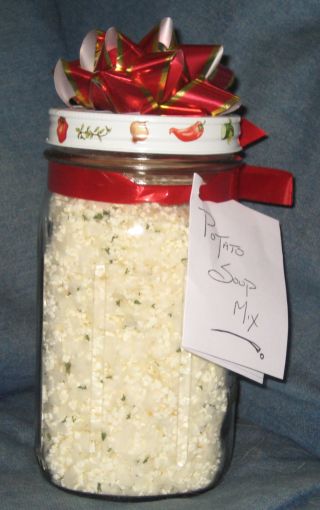 1 3/4 cups instant mashed potatoes
1 1/2 cups dry milk
2 tbsp. instant chicken bullion
2 tsp. dried minced onion
1 tsp. dried parsley
1/4 tsp. ground white pepper
1/4 tsp. dried thyme
1/8 tsp. turmeric
1-1/2 tsp. seasoning salt
Combine all ingredients in a bowl and mix. Place in 1 quart canning jars to store.
Makes 6 servings.

Instructions to attach to jar:
To Serve: place 1/2 cup mix in soup bowl and add 1 cup boiling water. Stir until smooth.
So if you haven't gotten everyone bought for, why not put together some nice handmade gifts? If you're looking for more Christmas gifts ~ soup mix jar ideas, check this out.