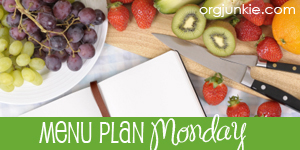 Lately, I don't know what it is, but our grocery bills have been sky rocketing. We've been spending around 150 dollars a week on groceries, which is ridiculous. I used to be able to get all of our groceries (and yes, we eat a lot of fruits and veggies, and whole food) for under $100.
I realized part of the problem was I'd gotten away from using the circular to plan our meals, and I'd stopped taking coupons with me. Our Dillons store sends out awesome coupons that are based on what you actually buy so it was a waste NOT to use them.
This week I went back to planning from the circular and our grocery bill was under $95. YAY! I did have to get a raincheck for one thing because they were out of it, so it will probably actually be right around $100, but it felt so good not to see it climbing and climbing so far over.
Here's what we're having this week:
BBQ Chicken Legs (in the oven) (chicken legs on sale for .98 lb)
steamed veggies
Pot Roast (still in the freezer from a buy one get one free sale)
carrots, potatotes
Turkey Breast (1.49 lb ~ this is the raincheck item)
mashed potatoes and green beans
Grilled fish (tilapia 3.99lb)
noodle sidedish
ginger carrots
Pork Chops (2.29 lb)
scalloped potatoes
peas and carrots
Tacos
Oven fried chicken legs (.98 lb ~ it was a large container good for 2 meals)
green beans
rice side dish
There you have it. I also made lentil soup over the weekend for my lunches this week.
We also got carrots, and some other fresh veggies, which allowed me to use a 4.00 off coupon if we spent more than $10 in the produce section. 🙂
If you want more great menu ideas check out the huge linky at orgjunkie.com. It's a great place to find diet specific menu plans. (If you're gluten free, look through the links I found quite a few gluten free menu plans last week.)