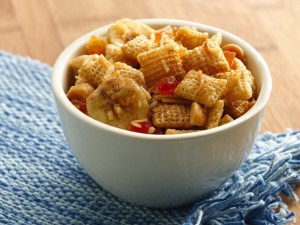 I just saw this recipe come through my facebook stream, and it sound delicious!
Tropical Island Chex Mix (here's the link to the betty crocker recipe)
Here's what you're going to need:
| | |
| --- | --- |
| 4 | cups Rice Chex® cereal |
| 1/2 | cup shredded coconut, if desired |
| 1/2 | cup dried banana chips |
| 2/3 | cup dried tropical three-fruit mix (from 7-oz package) |
| 1/3 | cup macadamia nuts |
| 1 1/2 | tablespoons butter |
| 2 | tablespoons packed brown sugar |
| 2 | tablespoons frozen (thawed) pineapple or orange juice concentrate |
Here's what you do:
(what happened here. I've always made Chex mix in the OVEN) 🙂
Mix together the dry ingredients in a large bowl.
In a smaller microwavable dish melt butter, then add brown sugar and juice concentrate and heat until hot.
Pour over dry ingredients and mix until it's evenly coated.
Cook in microwave for 5 or 6 minutes, stirring every couple minutes, and then lay it out to cool on foil or waxed paper.
Store in an airtight container.
I'm gonna try this tomorrow. I'll come back and let you know what we think. 😀 If you've tried it (or are gonna try it) please share your thoughts in the comments section.