This morning my mom and I went to book club (where we finally finished Brene Brown's book The Gift of Imperfection). Hanna's out of school so she played games on my computer at the library while we were in club. When we were done we all came back here and dyed Easter eggs.
My mom has come over for this Easter tradition every year. I got some pictures of the two of them (on the sly because my mom hates having her picture taken), and tons of Hanna… because she loves it. 😉
We were finished with the eggs and had them all laying out on the table when I remembered an article I'd read recently in the Huffington Post. It was all about how we moms don't manage to get in the pictures. We have millions of pictures of our children, and none with US in them WITH our children.
After I read the post I pledged to myself that I'd start getting in more pictures with Hanna. It's interesting because my mom absolutely hates having her picture taken. The only picture I can think of that has both of us in it, is one we had taken when Hanna was 3 months old. Before that? I'm not even sure there is one.
It makes me really sad to think I'm not going to have any pictures of her and I one of these days… and I don't want that to happen for Hanna, so yep, I've taken the #MamaInThePicture pledge and before we put everything away I asked my mom to snap a few pics of me and Hanna. 🙂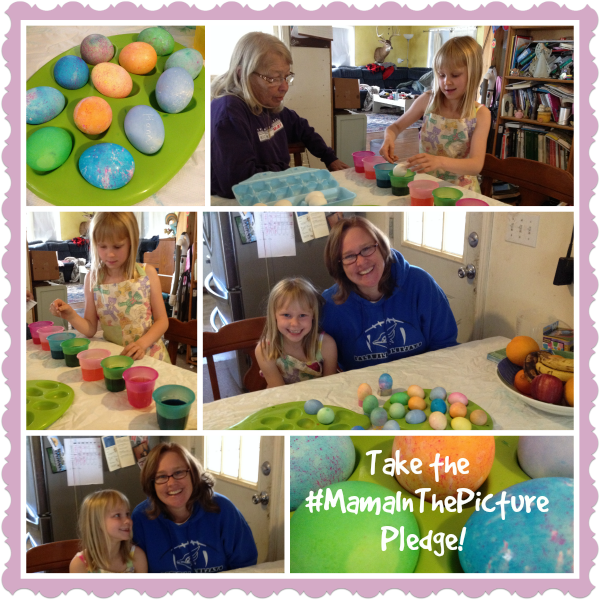 What about you Mama? Have you been in any Easter pictures yet? I'd love to see you!! Share your #MamaInThePicture pics  over on G+ and make sure you tag me so I can check them out!!
Have a Happy Easter weekend, and remember to get in the pictures!!