In the beginning, you just want them to eat. I remember when Hanna was little we'd set up little muffin tins full of different kinds of food so she'd eat. Thanks to that, probably, she is now a super grazer, and let's just say she "enjoys" her meals. Which means she takes FOREVER to eat.
Well… apparently, that's not how it works when you start school.
Last year in preschool they ate at the end of their morning, and she could take as long as she wanted to finish her lunch. This usually meant she and I were the only ones left in the room as the teachers cleaned up around us. Well, preschool's over baby.
This year she starts Kindergarten, in the big school. Which means there's a lunch hour. (ha!). I called the school a couple days ago to find out exactly how long she has to eat her lunch and was told 25 minutes. Holy Cow.
I'm sending her lunch with her, and we just received our Easy Lunch Boxes and the insulated cooler that goes with them in the mail yesterday. With our gear in hand I decided to do some test runs of lunch starting today.
I packed her lunch
1/2 peach cut into chunks
small handful of almonds in with the peach
4 pieces of celery
a muffin cup of egg salad
5 triscuits
4 pieces of cheese
1 smoothie pop made with these awesome silicone ice pop makers
When we sat down to eat lunch today I set the timer for 20 minutes (giving her a little time to get cleaned up and everything put away).
DAAAANG. With consistent reminding she managed to eat maybe half of her lunch. Here's what was left.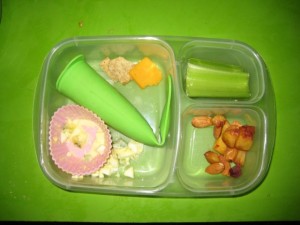 In the picture it looks like she actually did a pretty good job.

I was there though, every couple minutes reminding her to focus. I guess this is just one more thing she's going to have to learn in school… if she doesn't want to be hungry she's going to have to focus while she's eating.
oh boy… she just came in with the big old sad face. I'm so huuuuungry. I wanna eat. Can I have a snack. Mind you it's only been about an hour and 10 minutes since she ate lunch, and if she were at school she'd still have 2 hours left in her day. This should be interesting.
Anyway… the other thing I'm doing to prepare for lunches is finding some ideas. Lunch is my take it or leave it meal. I frequently miss lunch and don't really notice, but now I'm going to have to create a nutritious and delicious lunch every day for her.
So I've been scouring the internet, checking out blogs and writing down lists and lists of things to make her for lunch. I'm planning on creating a list I can draw from when I'm doing meal planning and just plan her lunches right along with our dinners.
Here's a couple great resources I've found so far:
100 Days of Real Food ~ Great ideas for sending real food to school with your kiddo.
Laptop Lunches has a fantastic menu section… separated into seasons.  (I looked at Laptop Lunches for a LONG time before choosing the system I bought. I liked the Laptop Lunches, but it was pretty expensive, and I read in quite a few reviews that the lids were hard for younger kids to get off)
iLunchBox ~ extensive collection of lunch ideas, as well as "A Week in Express" with weekly menu for dinners AND lunches ~ uses leftovers in some fantastic ways!
I don't have a particular system I'm using yet, but I've seen some really interesting ones out there… I also feel like once I get into the swing of things it will be easier than I'm feeling it's going to be now, never having done it.
I'd love to know how you manage the planning aspect of school lunch… what kind of system do you use? How do you keep it healthy, and keep them happy? Just another adventure!