I am a cookbook hound. However, my biggest problem is, I get a cookbook, and turns out there's only 3 or 4 recipes in it I like. What I wanted was a cookbook filled with my favorite recipes, recipes my family will actually EAT. I wanted to know how to make your own cookbook! I wanted to make my own cookbook filled with my choice of recipes.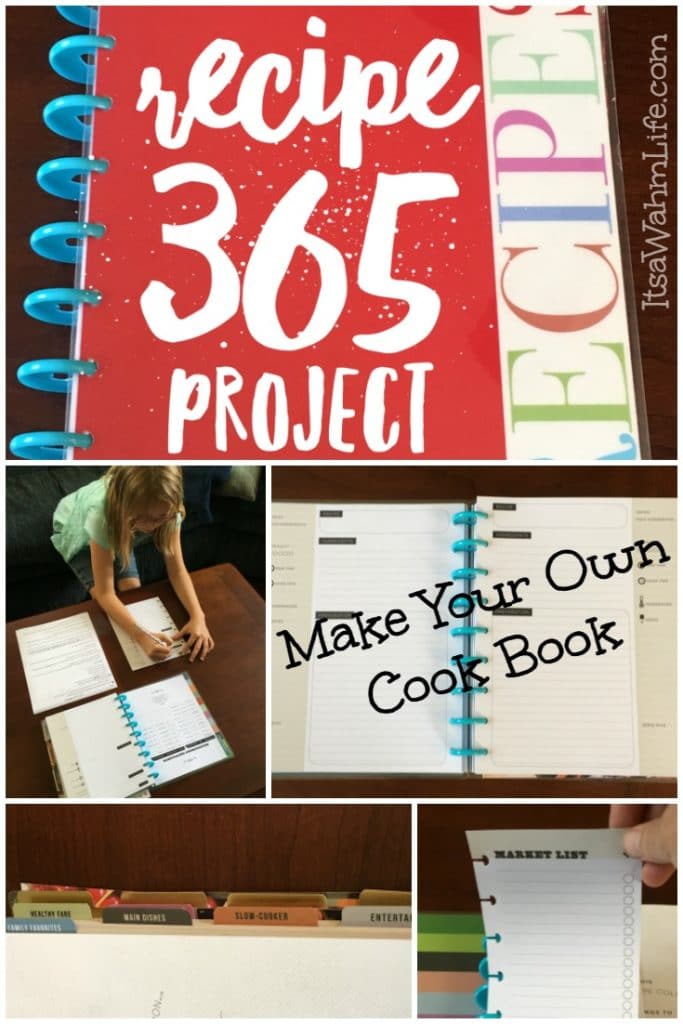 I've been thinking about doing this for a while (read YEARS!). I've even found different services I could use to do it, but I didn't really want a high gloss, "professional" cookbook. I wanted a family cookbook. One that would become a family heirloom, passed down the generations, instead of a note card box (like we currently have!)
I recently started using a Happy Planner, and in my exploration period (aka gathering all kinds of cool stickers and stamps to use in my planner) I found a Happy Planner just for recipes! It was the perfect solution! It's disc bound, so you can take recipes in and out easily. It holds 192 recipes, but there are also recipe expansion packs which allows you 40 additional recipes, but I think it's going to be a bit before we need them. 😉
My daughter and I have decided to start the project, finally! We're calling it the Recipe 365 Project! We are planning on doing a 365 day cookbook. (Like I said, this is a project!) Each week we will meal plan, using Pinterest, magazines, and different cookbooks. We'll put together the menu, (making sure we have 1 or 2 new recipes on the menu) the grocery list, and at the end of the week we will decide if the new recipes are worth going in our cookbook. If so, we'll add them, if not, we won't! Then we're going to share it with YOU!
This is a really fun way to get the kiddo more involved in the kitchen, meal planning, and meal prep. She loves to cook, but since we've started this she's cooking much more often, and is feeling a real ownership for the meals she's making.
So far, the only recipe to make it in our personal cookbook is the Coconut Curry Shrimp. 🙂 That was one of Hanna's picks. The original idea came from The Pioneer Woman Cooks DinnerTime cookbook (which she got me for Christmas!) However, there were some glitches that day, so we just went with my basic curry recipe. 😉
We'll be posting our meal plans, and the recipes that went right on Mondays! Make sure you stop by, and if you're ready to get started with us, grab your 365 Recipe Book, and your favorite cookbook, magazine, or board on Pinterest and let's get started!
Don't miss a menu! Sign up below and we'll send you a quick email each week when the menu and recipe #wins are posted!