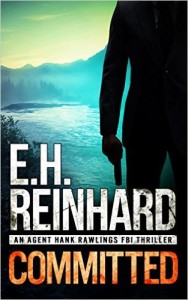 Committed (An Agent Hank Rawlings FBI Thriller Book 3)

by E.H. Reinhard
on January 1st 1970
Genres: Fiction
Buy on Amazon (aff link)
Add to a Goodreads Shelf


A wanted serial killer and his girlfriend are on a bloody killing spree across the United States. Agents Hank Rawlings and Beth Harper, along with the rest of their team, are on a nationwide manhunt to bring them to justice.

Scene after scene and body after body only add to the media coverage. The wanted couple's faces are splashed across every television and cover the front pages of every newspaper, yet Hank's team remains a step behind—leaving them searching through the wreckage and bodies left in the couple's wake.

As the pair takes a turn for the border, Hank must pull out all the stops to capture the murderous lovers before they take more lives, cross the border, and slip through the FBI's grasp.

The hunt is on.
This week's word for the Year of Words Challenge is Committed. Turns out that's kind of funny.
I had decided to read one book for this week, and as soon as I started it, I knew it wasn't going to be a book I really wanted to read. I quickly decided  (since I was already running late getting started with my reading this week) that I'd just switch to a different book.
It got me thinking about being committed to books, vs being committed to your challenge. I know people who will finish a book no matter what, me, not so much. I freely quit reading books when I'm not feeling them. I am however committed to this challenge, so I did finish my Committed book for the week. 🙂 We're talking about feeling committed to finish a book… or not over at the Year of Words Challenge group, come on over and share your two cents. 
The book I finally landed on was Committed by E.H. Reinhard. I purchased it from Amazon, for my kindle. It's an FBI thriller, which I love. This was a fun and easy book to read. I would have liked it to be a little more twisty at the end, I kind of saw what happened from a mile away, but I did connect with the characters, and would be interested in reading more of this series.
I did like how the next book was alluded to in the last chapter. Many times you purchase a kindle book and they leave you hanging so you have to buy the next book to find out the end. That's not the case with this book. The author did a great job of creating momentum and curiosity for the next book, which I will probably read.
If you're looking for a fun book to read (maybe in the middle of the blizzard hitting large parts of the country now) this would be a good one, and you can download it straight to your kindle and be reading in seconds. (Always a plus for this country girl with no bookstore within an hour drive).
Stay tuned next week when we dive into the word "connect".
*This post contains affiliate links. If you purchase after clicking a link I will be paid a small commission at no extra cost to you. Thanks. 😉